Hi, I'm Lilian!
---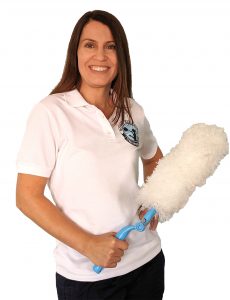 Hey, everyone! Thanks for stopping by.
I created
House Cleaning University to help you take charge of your life and make more money. I provide help and support to start and grow your very own house cleaning business that thrives.
About me
I'm married and a mom of two daughters. We also have  two furry friends named Willy and George that live with us. I clean homes for a living and love it!
I decided to start cleaning homes because my husband and I had accumulated debt and it felt like we were never going to get ahead. With "surprise" expenses always popping up it was impossible to save money.
For me it was a no-brainer that something had to change and fast! That's when I decided cleaning homes would be our ticket to a better life. Thankfully my husband was very supportive and with his help I was able to start and grow a successful house cleaning business that changed our lives for the better.
Fast Forward….
Today, a lot has changed. We take fun filled family vacations every year, paid off our debt and we are able to live life on our terms never stressing over money. But you want to know what the biggest and most rewarding change is? I can now teach others, just like you, how to start their very own house cleaning business and take charge of their lives!