Affiliates
---
Looking For a High Paying Affiliate Program?
Start Promoting House Cleaning University and You Can Be Making
$3,375 or More Every Month By Just Referring 5 Sales a Day!
Every day thousands of people search online for business opportunities, home-based business ideas, side hustles, and ways to make extra money on the side – and we have the answer!
House Cleaning University is an online course that teaches people, step by step, exactly how Lilian (course creator) started a house cleaning business from home, with only $200, and now makes over $2,000 every WEEK!
This online course includes absolutely everything someone would need to start a residential cleaning business such as…
Cleaning training videos (teaching how to clean a home from top to bottom)
How to land your first 5 paying clients
Cleaning contract/service agreement
Cleaning business forms
Detailed online marketing plan
Complete offline marketing plan
Day to day operations guide
How to expand and hire new employees
A step by step get started action plan
And so much more!
Not only that, this course is an easy sell because it pays for itself by just landing one new house cleaning client.
That's why anyone searching online for an affordable home-based business opportunity love this course. It not only pays for itself quickly, but it literally includes everything you need to get started, even if you have no experience cleaning or have never started a business before.
So How Much Can You Really Make as an Affiliate Partner?
We weren't joking when we said HIGH PAYING AFFILIATE PROGRAM. When you refer a paying customer to House Cleaning University, you get a whopping 50% commission.  That works out to be $22.50 USD for each referral that purchases the course.
With just 5 referrals a day you would be making over $3,375 a month!
Sales Daily
Daily Earnings
Weekly Earnings
(7 days)
Monthly Earnings
(30 days)
Yearly Earnings
(52 weeks)
1
$22.50
$157.50
$675
$8,190
2
$45
$315
$1,350
$16,380
3
$67.50
$472.50
$2,025
$24,570
4
$90
$630
$2,700
$32,760
5
$112.50
$787.50
$3,375
$40,950
Can you convert more than 5 sales a day? You could be earning over $40,000 per year with just 5 referrals a day!
Start making money today by sharing this amazing home-based business opportunity!
We Want To See You Succeed!
It True! We really want to help and that's why we will provide you with all the banners, graphics, and marketing materials needed to make your advertising endeavors successful. Need something custom? We can help! Just let us know and we will create whatever marketing materials you need, For FREE, to start promoting House Cleaning University.
Why would we do this for FREE you ask? Because the more referrals you send, the more money we can make together, and the more people we can help!
Frequently Asked Questions
Who would be interested in purchasing this course?
Anyone searching for an affordable home-based business opportunity such as…
Single moms
Stay at home moms
Retirees looking to make an extra income
Business opportunity seekers
College Students (this business can be run part-time and on weekends)
Anyone looking for a weekend or part-time side hustle to help clear debt, save money for retirement, put money aside for their children's education, build savings to purchase a home, etc.
How can I make sure you will pay me my affiliate commissions?
An independent third party payment processor named Clickbank handles the sales and makes payments to our affiliate partners directly. To join our affiliate program you will need to sign up with Clickbank (details below), but this is free & easy to do.
When do I get paid my affiliate commissions?
Clickbank pays every 2 weeks no matter where you live in the world! When you log-in to your Clickbank account, you will have access to real-time statistics, so you can see how much money you have earned at any time.
How do I sign up?
Click Here to sign-up with Clickbank and to become our affiliate partner.
Once you have signed up with Clickbank, you can direct traffic and customers to our site using the following link:
http://AFFILIATE.VENDOR.hop.clickbank.net/?tid=ExampleTID
(Simply replace AFFILIATE with your ClickBank account name)
When a customer clicks' on your ClickBank referral link, that visitor will be redirected to our site and if a purchase is made, YOU get paid a HUGE commission! It's as simple as that.
Affiliate Marketing Materials
Below are some free marketing materials to help you get started promoting and advertising House Cleaning University. Simply right-click on the image(s) you would like to use and save them to your computer. These can be used on your blog, website, or anywhere else you want to promote House Cleaning University online.
Remember, if you need any custom graphics or promotional materials, please reach out and we will have those created for you.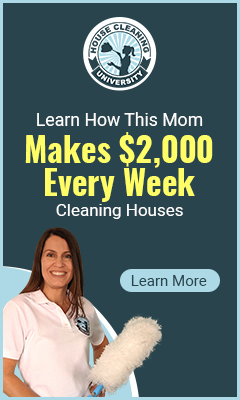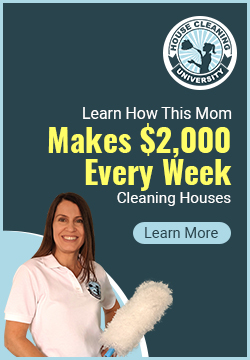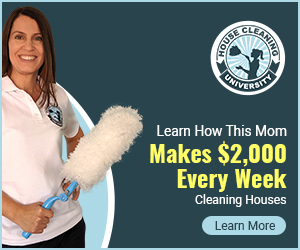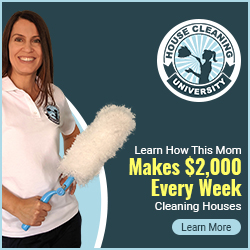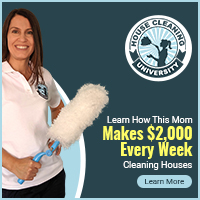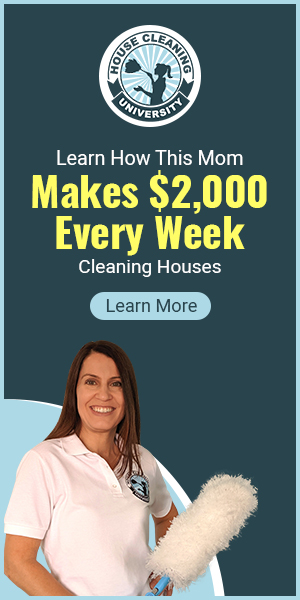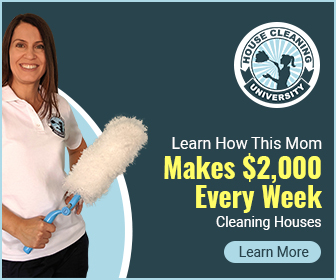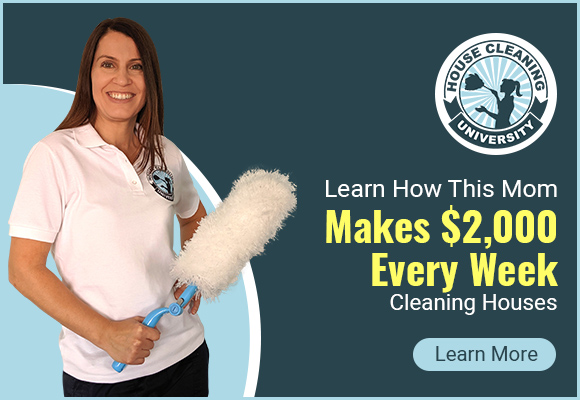 Any affiliates caught spamming will be immediately reported to ClickBank
See ClickBank's specific rules and regulations regarding affiliate promotion here
Clarification of the term Spamming
You are prohibited from promoting this product by spamming – including, but not limited to, unsolicited commercial email broadcasts, forum/newsgroup cross-posting, blog-spamming, solicitation on classifieds sites, social network spamming and otherwise contacting anyone without their prior permission. Please visit FTC.org to learn more about ethical marketing practices, guidelines, and laws.
See ClickBank's specific rules and regulations regarding affiliate promotion here