House Cleaning Business Flyers, Leaflets & Door Hangers
Lilian | December 10, 2019
---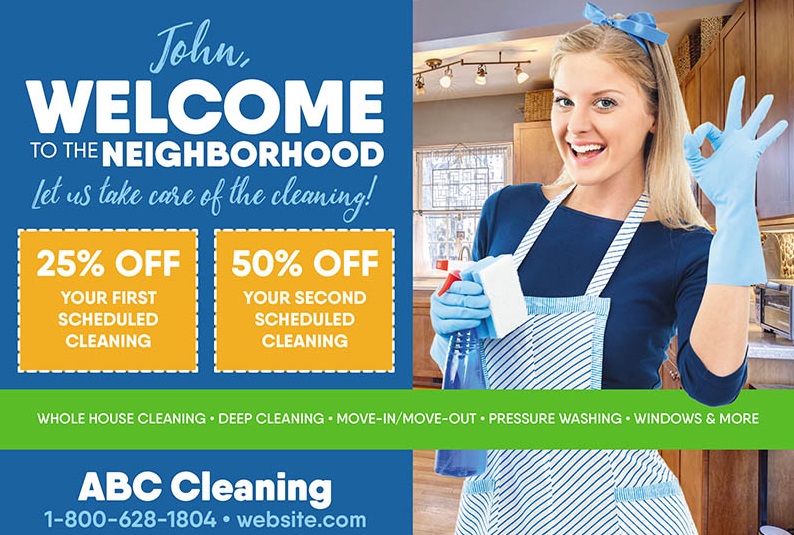 House Cleaning Business Flyers, Leaflets & Door Hangers
A house cleaning business flyer's primary purpose is to attract attention.  It's an inexpensive and highly effective way to find new clients. Want to learn how to write and design a house cleaning flyer, leaflet or door hanger that people can't resist? Here are a few good tips to keep in mind.
House Cleaning Business Flyer Design Tips
Create a Snappy & Attention-Grabbing Headline
The headline of your house cleaning flyer will always be the first line of text that your recipients will read. Try to make it catchy in order to hook them to read further. You've only got a few seconds to grab a potential customer's attention before they skim right over your flyer. There's no better way to catch your prospect's attention than with a catchy headline; it's the most important part of your residential cleaning business flyer, leaflet or door hanger design.
Keep Your Content Brief & To The Point
The area where you can write content is limited so don't overwhelm your reader by squeezing in a lot of information.
Use Images, Graphics & Bullet Points
The right image or graphic grabs attention and can really make your flyer, leaflet or door hanger POP.  Use bullet points to make the information easier to read & understand.
Offer a Coupon
Everyone loves a great deal and by adding a coupon to your house cleaning flyer, leaflet or door hanger, you will convert more of your prospects into first-time customers.
Get Them To Take Action
What exactly is it that you want your prospect to do when they receive your house cleaning flyer, leaflet or door hanger? Do you want them to visit your website, call for more information, or something else entirely? Make your call to action explicitly clear, and place it somewhere it's sure to be noticed.
Use Testimonials
Use the praise of satisfied cleaning customers to your advantage. A credible testimonial can be extremely effective when you want to persuade people to take action and choose your cleaning services over your competitors.
Incorporate Your House Cleaning Business Logo & Colors
This is very important but often overlooked. Add your logo to your flyer and use your business colors for added brand recognition.
Questions About Residential Cleaning Business Flyers
How much does it cost to print house cleaning flyers, leaflets, and door hangers?
It will cost about $165 to have 1000 flyers printed.
Is it against the law to put residential cleaning flyers on cars?
It may be legal in some places but it could be considered trespassing or illegal to leaflet cars on a private parking lot without the parking lot owner's permission.
Is it illegal to put cleaning business flyers in mailboxes?
The post office owns the mailbox so placing flyers in a mailbox or advertising on a mailbox is prohibited. You can leave flyers, leaflets and door hangers on doorsteps, on the doorknob or wedged in the door frame.
How many flyers should I distribute for my house cleaning business?
You should deliver at minimum 1000 flyers to gauge the response and conversion rate.
Are flyers, leaflets and door hangers a good way to advertise your house cleaning business?
Yes, especially if you hand-deliver them door to door. If you choose to use the post office your flyers will be lost amongst competitors and other business flyers fighting for attention.
What is the best size for a house cleaning flyer?
A6 is the most popular and affordable size for a flyer or leaflet. It's large enough to get your message across and create awareness.
How to distribute house cleaning flyers in a neighborhood?
The best way to distribute flyers, leaflets, and door hangers in your neighborhood is on foot, door to door. You can also ask to leave flyers and leaflets at other local small businesses such as diners, hair salons, and pinned on community bulletin boards.

About Lilian
---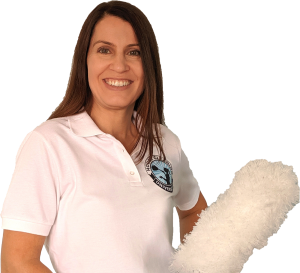 Hi, my name is Lilian and I run a successful house cleaning business that makes over $2,000 every week! Learn step by step exactly how I did it by CLICKING HERE
---