Residential House Cleaning Business Cards
Lilian | December 10, 2019
---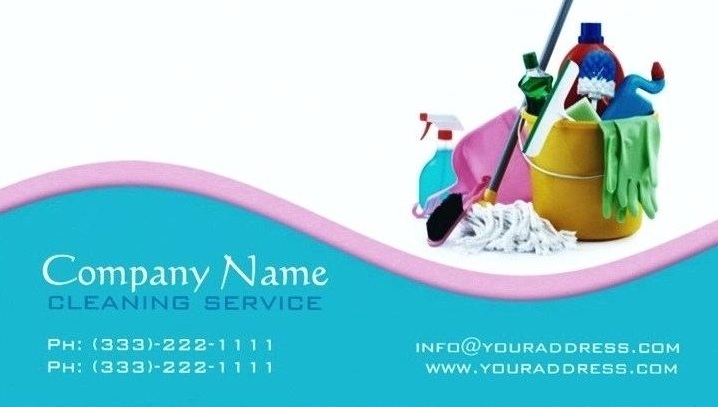 Residential House Cleaning Business Cards
Business cards are one of the first and lasting impressions between you and prospective house cleaning customers. People often overlook business cards and only print their contact details on one side. Make use of any blank space by adding your slogan & more details about the house cleaning services you offer.
Most house cleaning business cards are printed on card stock. This is the most cost-effective option for printing your cards. To make your card stand out, go with a high-quality residential cleaning business card that uses thicker paper. If you're willing to get a little more creative, you can print onto all sorts of different materials including transparent plastics, metals and even wood.
House Cleaning Business Card Design Tips
Make Your House Cleaning Business Card Readable
If you've got a lot of information to add to your house cleaning business card, you may be tempted to make the size of your text smaller to fit all the information onto your business card. Just be careful not to make the text too small because it may look readable onscreen when you get your design proofs from your designer, but when printed it will actually be tiny and to small to read. As a general rule of thumb, don't go smaller than 8pt. Also, don't forget about the font itself: keep it professional and simple. Avoid using a detailed calligraphic font which is impossible to
Use The Right Colours
When used correctly bright colours can make a business card stand out and be noticed. If however you already have your company colours chosen and your branding already in place, be sure to keep your business cards in line with the rest of your company's branding. If you have company colours, use them.
Choose Thicker Paper For Your House Cleaning Business Cards
Thicker cards tend to feel more expensive making your business seem more professional.
Include Important Information
Make sure you include all the information on the back of your card that you think the client would find useful
Give Your House Cleaning Business Card a Purpose
Turn your business card into a loyalty card. Customers love them! Business cards are the perfect size to create a punch or stamp card that lets you reward your repeat customers.
Graphics, Icons & Cartoon Images Used in House Cleaning Business Cards
Some common graphics, icons and cartoon images used when designing a house cleaning business card include maid silhouettes, feather dusters, mops, vacuums, cartoon cleaning ladies & maids, bubbles, house icons or a combination of one or more of these graphics. Images, graphics, icons, and cartoons can add that something extra to make your business card stand out.
House Cleaning Business Card Templates – Should You Use One?
Imagine finding out one of your competitors is using the exact same business card design as your house cleaning business. Chances are if you choose to use a pre-made business card template, someone else is also using that same template for their house cleaning business. It's not expensive to have a custom business card designed, so if you are thinking of using a free pre-made template, you might want to reconsider and choose to have a custom business card designed instead.
Where to Advertise Your House Cleaning Business Cards
1.) If you aren't already building partnerships with other businesses, what are you waiting for? Fellow small business owners have similar goals, making them invested in your success. Find non-competing partners who share your customer base, and swap business cards to give each other referrals.
2.) Find businesses in your area that let companies post on their public bulletin boards. Check out these common places where you can display your house cleaning business cards: Grocery stores, Community centers, Libraries, Churches, Gyms and recreational centers and even some local restaurants/diners.
3.) People in waiting rooms are a captive audience. Use this idle time to your advantage, and put business cards on lobby tables and inside magazines. Don't overlook these high-traffic businesses with waiting rooms: Doctors' office, dental office, mechanic, hair salon, veterinarians, and more.
4.) Create a referral program on your business card. Leave room on the back of your card for your clients, associates, employees, and friends to write their email addresses or name. Either include instructions on the card or explain to the person you hand it to that your house cleaning business card is a referral card; encourage them to write their info on the back and pass it along to someone else who could use your services. In exchange, you can reward them with a discount on their next cleaning or a small gift.
Why You Should Always Carry a Handful Of House Cleaning Business Cards
You never know when you might find yourself striking up a conversation at a party, at the bus stop or at your local cafe. During that conversation, chances are you will find yourself answering the "so what do you do" question. This is your chance to hand out your business card, talk about your business and potentially land another client. By always having a few business cards on hand you will never miss a networking opportunity or the chance to land a new client.
As a local business owner, you must secure every opportunity you can get to build connections and promote your business. Business cards provide you with an easy way to share your contact information without sounding too desperate. It allows you to give people you meet a chance to follow up and connect with you.
About Lilian
---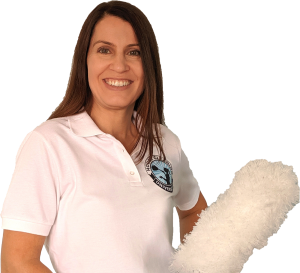 Hi, my name is Lilian and I run a successful house cleaning business that makes over $2,000 every week! Learn step by step exactly how I did it by CLICKING HERE
---